Each season, hundreds of students participate in the many summer programs of Trollwood. We hope you will have fun in a relaxed, outdoor atmosphere, learning alongside other students of your age and skill level, under the direction of professional artists and teachers. To help you make the most of your Trollwood experience, we offer several services to enhance your learning opportunities, and we surround you with a support staff of caring individuals who truly want you to have the best experience possible with us!
SERVICES
To find out more information on how we can help you, click on the following: Transportation and Lunches on the tabs above. Trollwood does not provide housing for students at this time.
STAFF
June through August, our Receptionist is located in the Marcil Commons, and is ready to help with attendance, enrollment, and will connect you with additional Trollwood staff as needed.
If students are in need of more involved guidance, our Student Services staff, also in the Marcil Commons during summer months, are available to help with student issues. Our Student Services staff will help you find the resources to cope with whatever challenges you may be facing.
The Trollwood Program Coordinator is available year-round to parents and students who have additional questions about placement, study tracks and levels, or instructional concerns. It is our goal to provide all students with the best possible learning atmosphere and quality of instruction.
​During the month of June, Trollwood will offer bus transportation to Trollwood Performing Arts School from various pickup points in Fargo, West Fargo, and Moorhead and back again. Routes will run prior to 8:20 am and again after 4:30 pm, allowing you to participate in a full day of programming at Trollwood.
For just $90.00, you may ride the bus both ways, only one way, or switch it up from day to day! Routes will operate from June 7 – 30 for 2021.
Pick-up/Drop-off Locations and Times: Bus pick-up/drop-off locations and times are listed below: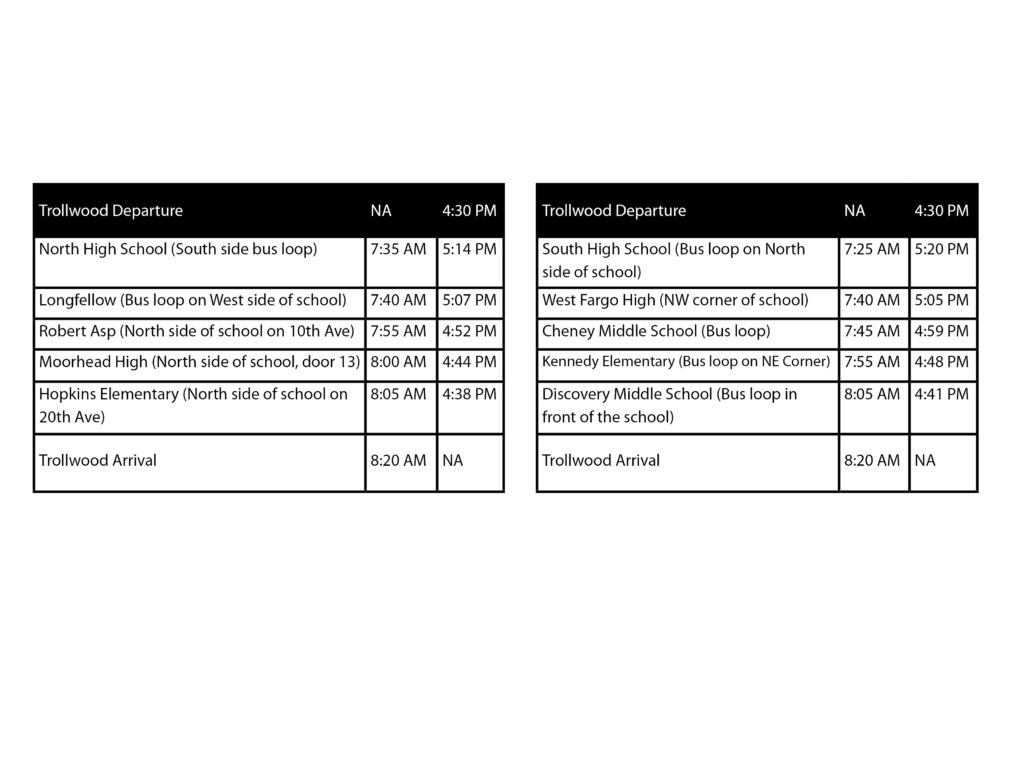 Lunch is available at Trollwood during June 7 – 30, Monday-Friday, at the Gallery Cafe. Meal will include choice of entree, side, vegetable or fruit and a beverage.
Best Deal! Full Meal Deal: Punch card entitles you to lunch every day, Just $5.00 for each lunch, $90.00 (18 lunches total). This plan offers the greatest savings, too!
Partial Meal Plan: Choose the number of lunches you would like to buy, multiplied by $5.50 per lunch, and we'll customize a punch card just for you to be used on the days of your choosing! Additional meals may be purchased and added to your punch card at any time.
Single Lunch: You can easily buy lunch individually for $5.75 each, no punch card needed. You pay as you go through the meal line (cash or checks accepted).
Ala Carte Items: Available every day, priced individually. Items include salads, entrees, fruit, yogurt, desserts, chips, and beverages (cash or checks accepted).
The June 2021 Lunch Menu Schedule will be available soon! Lunch Menu Schedule and Gallery Cafe Lunch order form will also be available in the student orientation packets which will be sent after May 14, 2021.