Our summer 2021 events are complete, thanks to all involved! We look forward to seeing you again next summer!
2021 TROLLWOOD CHILDREN'S THEATRE MUSICAL
Disney's The Jungle Book KIDS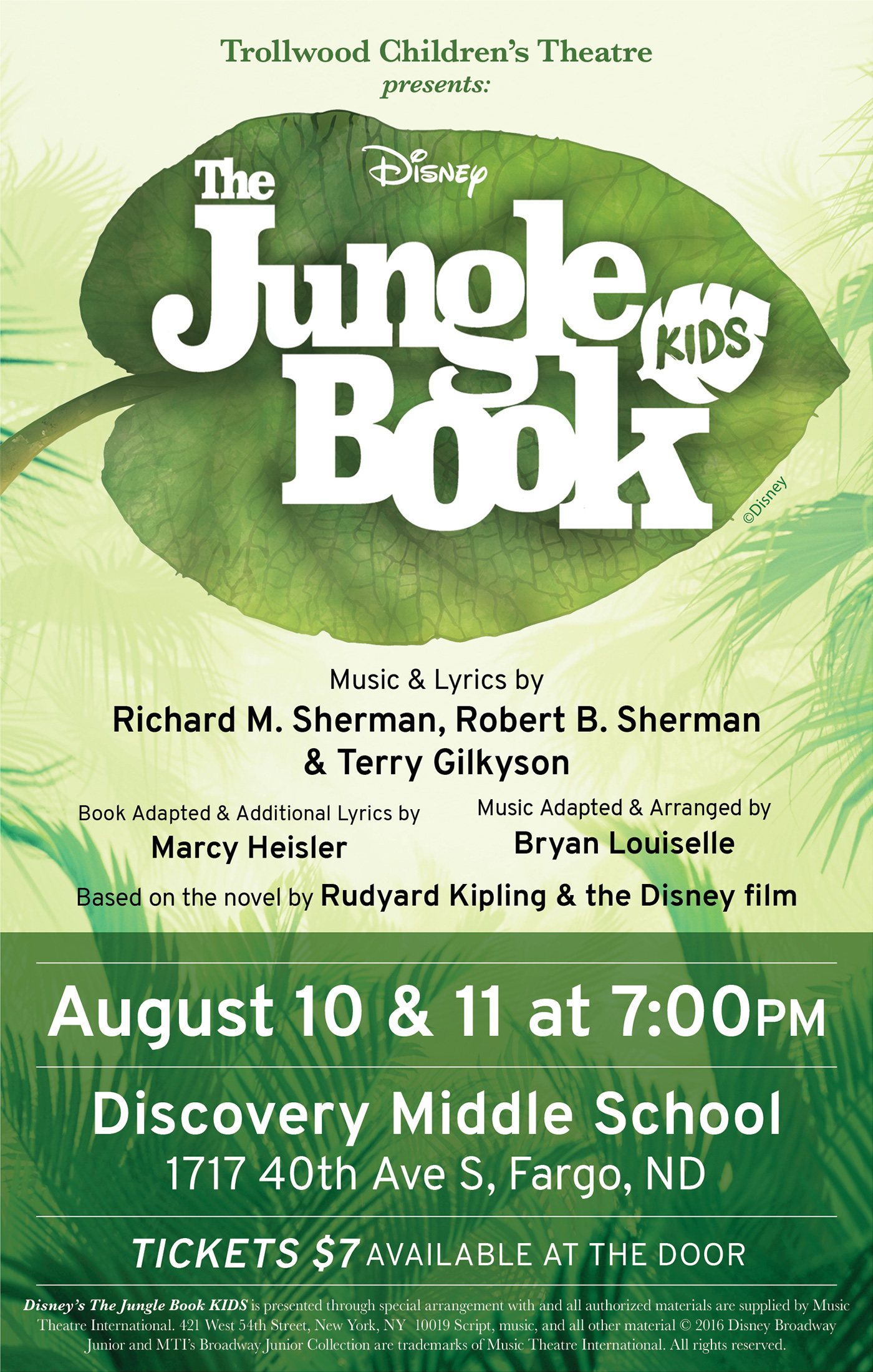 Adapted from Disney's beloved animated film and the works of Rudyard Kipling, the "man cub" Mowgli, bounds through the jungle and learns what it means to be human. The jungle is jumpin' with a jazzy beat in Disney's The Jungle Book KIDS. Specially adapted from the classic Disney animated film, Disney's The Jungle Book KIDS features a host of colorful characters and your favorite songs from the movie.
Banished by the ferocious tiger, Shere Khan, a human boy named Mowgli and his panther friend, Bagheera, are on the run in the deepest parts of the jungle. On their journey, the two meet a sinister snake named Kaa, a herd of elephants and a giant bear named Baloo, who teaches them the swingin' musical rhythms of the jungle. After surviving a dangerous encounter with a band of monkeys led by King Louie, Mowgli and Bagheera are forced to run for their lives. When Shere Khan returns, our heroes must rally their fellow animals into battle and restore peace throughout the jungle.
(Above excerpted from MTI International)
The Jungle Book Kids Performances:
August 10 & 11 at 7:00PM
Discovery Middle School
1717 40th Ave S, Fargo, ND
Tickets available at the door
All Ages $7
2021 TOTALLY TROLLWOOD MUSICAL
Disney and Cameron Mackintosh's Mary Poppins JR.
Disney and Cameron Mackintosh's Mary Poppins JR. is an enchanting mixture of irresistible story, unforgettable songs and breathtaking dance numbers. The jack-of-all trades, Bert, introduces us to England in 1910 and the troubled Banks family. Young Jane and Michael have sent many a nanny packing before Mary Poppins arrives on their doorstep. Using a combination of magic and common sense, she must teach the family members how to value each other again. Mary Poppins takes the children on many magical and memorable adventures, but Jane and Michael aren't the only ones upon whom she has a profound effect. Even grown-ups can learn a lesson or two from the nanny who advises that "Anything can happen if you let it."
(Above excerpted from Music Theatre International)
Mary Poppins Jr. Performances:
August 3 & 4 at 2:00PM & 7:00PM
Fargo North High School
801 17th Ave N, Fargo, ND
Tickets available at the door
Adult $10, Student/Senior $8, Child $5
PRESENTING:
LIFE CYCLES
Written & Directed by Kevin Kennedy
If you enjoyed The Trollwood Players performance of Timepieces, then you will love this year's fresh take on a non-musical production!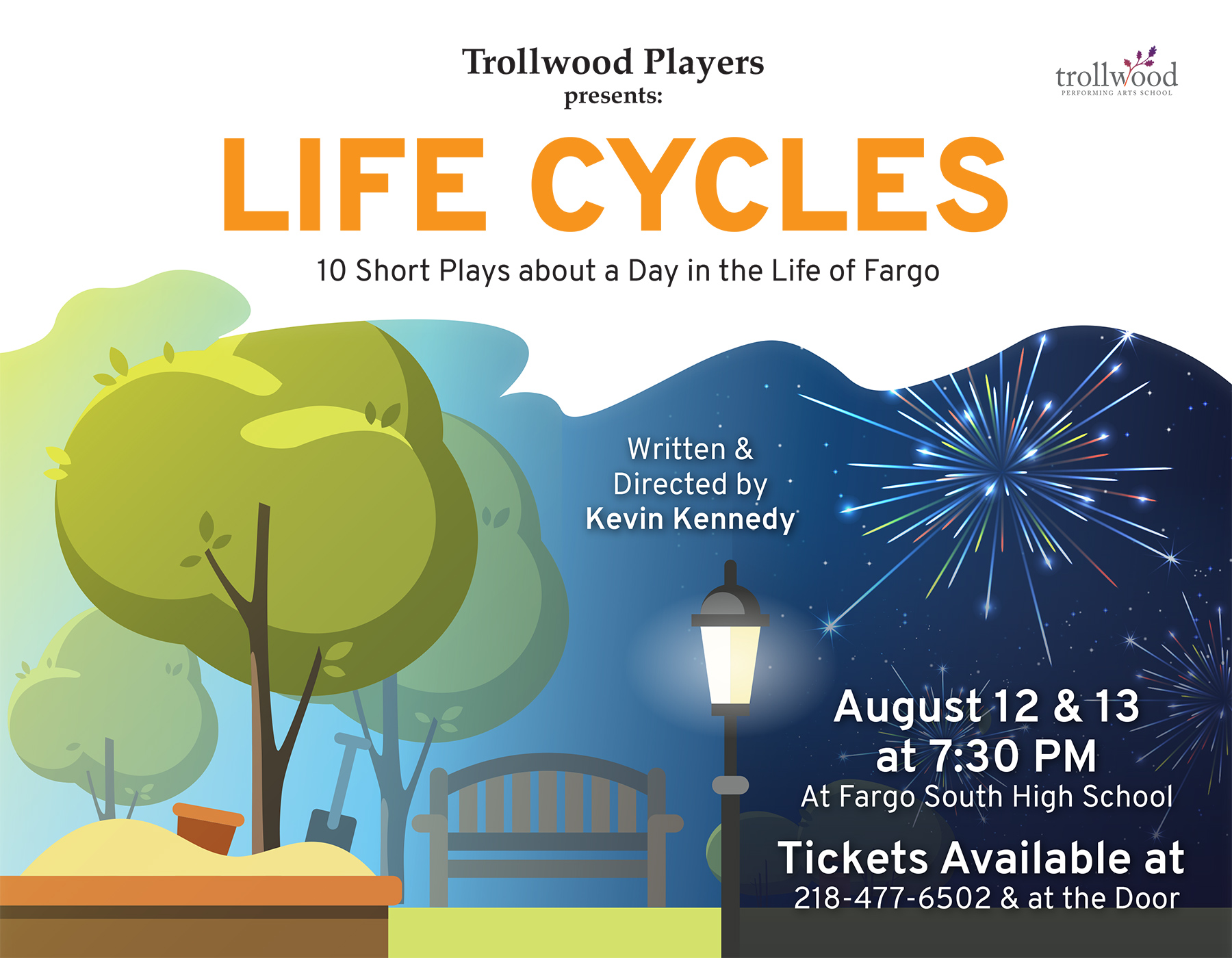 Life Cycles is a collection of ten-minute plays written and directed by Kevin Kennedy. Each piece is a complete play within itself. Ten-minute plays usually deal with a single issue and the plot is simple. Because of the shortened time, sets are minimal and the piece is focused on the characters. The goal of a ten-minute play is to get the audience to think about a single issue or dilemma in a tightly focused format. Kevin Kennedy has written over 40 ten-minute plays.
Life Cycles Performances:
August 12 & 13 at 7:30PM
Fargo South High School
1840 15th Ave S, Fargo, ND
Tickets available at the door
Adult $10, Student/Senior $8, Child $5
SPECIAL ENCORE
CINDERELLA VIRTUAL PERFORMANCE!

---
ABOUT RODGERS + HAMMERSTEIN'S CINDERELLA
Rodgers + Hammerstein's Cinderella is the new Broadway adaptation of the classic musical. This contemporary take on the classic tale features Rodgers & Hammerstein's most beloved songs, including "In My Own Little Corner," "Impossible/It's Possible" and "Ten Minutes Ago," alongside a hilarious and romantic libretto by Tony Award nominee Douglas Carter Beane as well as some new characters, and surprising twists.
Originally presented on television in 1957 starring Julie Andrews, Rodgers & Hammerstein's CINDERELLA was twice re-made, first in 1965 for Lesley Ann Warren and then again in 1997 featuring Brandy and Whitney Houston. The original Broadway production opened in 2013 and starred Laura Osnes, Santino Fontana, Victoria Clark and Harriet Harris.
Rodgers + Hammerstein's Cinderella is proudly presented by: